SWEET-THANG ISSUE 7
£

7.77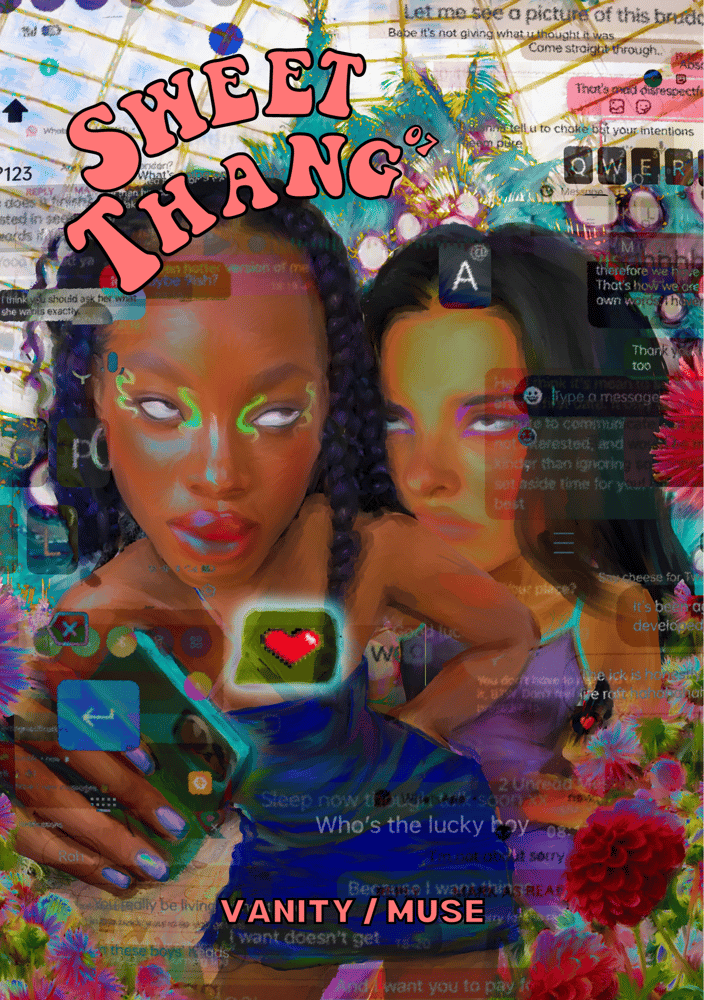 Issue seven is finally here! 70+ pages of artwork, thought-pieces, creative writing and photography - all about concepts of vanity and muses.
In this issue, you'll find everything: self-portraits through photography and fine art, long-form poetry that self-indulges, encounters of true beauty, poetry on black love, visions of the empress tarot card, and much more! The quality of work is incredible. Thank you for supporting sweet-thang by buying this issue. All proceeds go back into running the zine, funding printing and future projects. sweet-thang is a submissions-based, entirely volunteer-run platform. Your support is so vital <3
Worldwide shipping.
Hand packed with love.
Shipped from the UNITED KINGDOM.
**SHIPPING INFORMATION**
Due to the current situation, delivery times will take longer than usual.
The shipping price is based on Royal Mail secure postage - not only do we want your zines to actually make it to you, but we want them to arrive intact! End-to-end tracking is reflected in the cost of shipping.
UK SHIPPING: Please allow 1-3 weeks for your copy to arrive.
EU ORDERS: Due to Brexit, custom tax fees may apply.
INTERNATIONAL SHIPPING: Please allow at least 2-6 weeks for your order to arrive and make sure you provide the correct shipping details to avoid delaying your order.
You will be notified by email when your order has been shipped, along with a Royal Mail tracking number.
Important small print: shipping price will change based on your location and how many copies you order.
Much love,
Zoe xo
Founder of sweet-thang
Artists + instagram handles/web links
Funmi Lijadu / @artbyfunmi
Nambi Kiyira / @a_la_nambi
Kenia Hale / @KeniaIsCreating
Sihle Keswa / @silhecore
Dae Reynolds / @hyssopd
Elia diane Fushi Bekene / @selflove_tribute
Nadira nadiraxrene.com
Kirsty Bekoe-Tabiri https://www.kkbekoe.com/
Chioma Onwuezobe / @chioma.nma
Temi Olafunmiloye / @unruly.sun_
Sena Appeah / @sena_a_art
Mali McGrath / @malimcgrath
Alicia Abieyuwa Bergamell / @anomalissia
Véronique R veroniquehall.com
Gabrielle Cole gabriellecole.carrd.co
Ashleigh Genus / @themeltedmind
Cleopatra Thompson / @cleo.jahina
Phoenix Yemi / @oyaphoenix
Laura Hackshaw / @lhackshaw
Kobi Axel
Pip Fisher / @poetry_by_pip
Jahia LaSangoma
Nancy ArtMusic / @nancy.art.music